Description
The volleyball is a ball that appears in Hungry Shark Evolution. It was put into the game to promote the 2016 Olympics in Rio de Janeiro, Brazil. It appears in the vicious volleyball event where you have to hit as many enemies with the ball as you can It still appears after the event for the shark to play with.. The volleyball is bigger than the beach ball and can stay in the water for a longer period of time.
Location
Volleyballs can be found near the beach ball in the area where shark cages and enemy megalodons are common. In other terms, near the Mr. Snappy spawn point.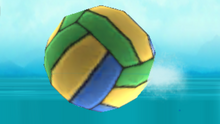 Trivia
Hitting the volleyball makes the same noise as hitting a shark cage for some reason.
Ad blocker interference detected!
Wikia is a free-to-use site that makes money from advertising. We have a modified experience for viewers using ad blockers

Wikia is not accessible if you've made further modifications. Remove the custom ad blocker rule(s) and the page will load as expected.