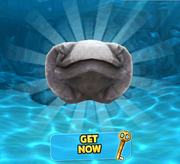 The Relic of Alan is a special item in Hungry Shark Evolution. It is discovered when your when you unlock
Mr. Snappy
. The Relic of Alan is the fossil of its own skull. It has no purpose in the game other than to hint the Frilled shark's presence in the game and award you for all your time you played this, with hint of even more fun. It gives you a hint that there are sharks that are to be unlocked even after the Great White Shark, since upon initially unlocking
The Megalodon Relic
,
The Big Daddy Relic
and
The Mr. Snappy Relic
the
Great White Shark
appears to be the final shark in the game, though this is not the case.
When you unlock Mr. Snappy and level it up to the maximum percentage, the Relic of Alan is replaced with Alan itself. This then makes it available for purchase.
Trivia
Ad blocker interference detected!
Wikia is a free-to-use site that makes money from advertising. We have a modified experience for viewers using ad blockers

Wikia is not accessible if you've made further modifications. Remove the custom ad blocker rule(s) and the page will load as expected.