Description
Splum is a location in Hungry Shark World located on the right side of the Arctic Ocean. It is a small restaurant that, from its appearance, probably sells burgers. The area is polluted as it contains lots of garbage and a pipe that ejects something green into the water. There will be around 2-3 people near the restaurant ready to order something.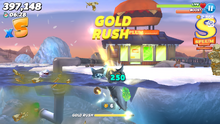 Entities and Items
Emperor Penguins
Sardines
Villagers
Villager spearthrowera
Trivia
Splum is the only area in the game that will not tell you if you are close to it. It is also unlabeled just like Puffin Rock.
When you are near the restaurant, you can hear energetic music.
Splum is apart of Glutwell, a fictional company in Hungry Shark World. The two other Glutwell areas are the Garbage Dump in the Pacific Islands and the Oil Rig in the Arabian Sea.
According to the Glutwell website, this is the first fast food restaurant in the Arctic Ocean.
Ad blocker interference detected!
Wikia is a free-to-use site that makes money from advertising. We have a modified experience for viewers using ad blockers

Wikia is not accessible if you've made further modifications. Remove the custom ad blocker rule(s) and the page will load as expected.