Space is a location at the highest place of the map. Flying GW's, Enemy Robo Sharks, Helicopters, and Bi-Planes are prey that you can find here. You can stay there only if you have the Jet-pack and the Astronaut Baby. You can fly for a short time using turbines placed in the water. There are also stars that can form words like "WOW", "COOL", "FGOL" and "ALAN " ( alien planet only ). There are also Weather Balloons and the Moon. The Moon is located where Hammerhead Shark lands.
Gallery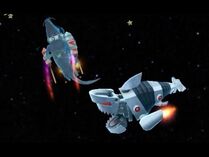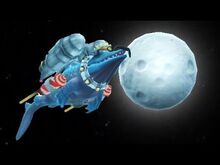 Ad blocker interference detected!
Wikia is a free-to-use site that makes money from advertising. We have a modified experience for viewers using ad blockers

Wikia is not accessible if you've made further modifications. Remove the custom ad blocker rule(s) and the page will load as expected.