Description
The Shanty Town is a location in Hungry Shark World located at the right edge of the Arabian Sea. The water around the town is green and is full of mutated animals due to the oil rig nearby. There is also spilled oil in the area as well. The town itself has several items flowing into the polluted water. Most of the town's residents live in slums. Since the town is built near water, the residents have plank bridges to walk on. These bridges can be boosted into and broken by certain sharks. There is also a cave nearby the Shanty Town filled with blob fish.
Entities and Items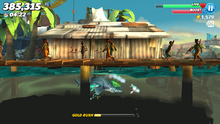 Evil Great White Sharks
Spilled Oil
Slum Dwellers
Angler Fish
Sardines
Crabs
Trivia
The areas around the Shanty Town are similar to the sea of despair from Hungry Shark: Part 3.
The Town may belong to India as the country is located near the Arabian Sea in real life.
This place seems to be against Glutwell Corp.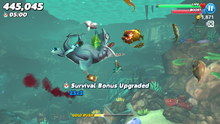 Ad blocker interference detected!
Wikia is a free-to-use site that makes money from advertising. We have a modified experience for viewers using ad blockers

Wikia is not accessible if you've made further modifications. Remove the custom ad blocker rule(s) and the page will load as expected.