The box in the Secret lab is a box that contains a new Shark that may being add to the lab.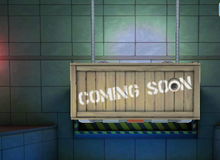 Appearance
It's a wooden box labeled "Coming Soon" with an eye as an "o" letter.
Cost
It costed only 1 coin or gem which is because is useless.
Special Power
It not have any powers, it just a box. When you play it, you can only move its head left or right facing down. And when sinks down to the bottom, it will stay without doing anything. They were used for april fools day by FGOL (Future games of london) and later the Box got replaced with the new "Pyro shark".
Ad blocker interference detected!
Wikia is a free-to-use site that makes money from advertising. We have a modified experience for viewers using ad blockers

Wikia is not accessible if you've made further modifications. Remove the custom ad blocker rule(s) and the page will load as expected.