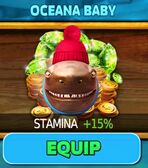 The Oceana Baby is a Special Baby added in Hungry Shark Evolution. It is bought in the Oceana Bundle, along with 60 gems and 6,000 coins. It is to help donate for Oceana's cause to save the world's oceans.
Appearance
The Oceana Baby is a Leopard Shark, which looks like a recolored Reef Shark. It is a light brown with dark brown spots. It wears a red skull cap with a red puff ball and a light blue shirt with openings for its fins and tail.
Abilities
The Oceana Baby gives a 15% stamina increase and can be equipped with standard babies, making the health drain relatively slow. It will also try to eat fish to replenish your health drain.
Cost
The Oceana Baby doesn't cost any gems or coins. You have to buy the Oceana Bundle, which include the Oceana Baby, 60 gems, and 6,000 coins for $4.99, unless you hack or glitch the game to make it a lower or no price.
Trivia
The Oceana Baby is the only Baby other than the Santa Baby and Astronaut Baby to have a full set of clothes.
It is the only baby that can only be bought in a bundle that costs real money.
The Oceana Baby helps a lot with the endgame sharks, who have very fast health drains, as you can equip it with other standard babies