a test combination between megalodon world and evolution
<aside class="portable-infobox pi-background pi-theme-wikia pi-layout-default">
Megalodon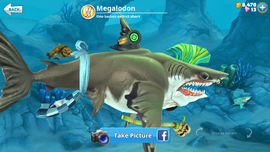 Appears in
Hungry Shark World
</aside>The Megalodon (Test) is an !! shark and is the third most powerful shark in Hungry Shark World.
Description
The Megalodon is noticeably more grotesque than the Great White Shark in terms of appearance: being slightly bulkier at the body and with a shade of brown on it's back; with a more narrow hwhatead, large, razor sharp teeth, and it's gruesome, unforgiving eyes.
Gallery
image.jpeg|The Megalodon Sharkarium card
the hell is going on here?
Ad blocker interference detected!
Wikia is a free-to-use site that makes money from advertising. We have a modified experience for viewers using ad blockers

Wikia is not accessible if you've made further modifications. Remove the custom ad blocker rule(s) and the page will load as expected.