The Kraken is a pet in Hungry Shark World.
Abilities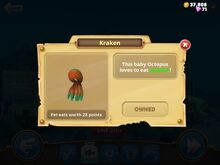 The kraken or octopus can eat every kind of Jellyfish in Hungry Shark World. It also gives double Points for everything it eats.
This pet is a very useful pet for (L) Sharks and smaller because they lack the ability to eat Jellyfish. this little guy lets them venture deeper than normal and also lets them get places normally infested with Jellyfish.
It can also eat Red Jellyfishes! Which is effective for clearing out an area filled with it.
Cost
Kraken costs 100 Gems, the Same as Anna.
Trivia
You don't need kraken if you own an Atomic Shark due to the fact it can eat all jellyfish like kraken.
He could also be obtained for free by signing up for the pre-registration of Hungry Shark World.
Trivia
Ad blocker interference detected!
Wikia is a free-to-use site that makes money from advertising. We have a modified experience for viewers using ad blockers

Wikia is not accessible if you've made further modifications. Remove the custom ad blocker rule(s) and the page will load as expected.