After Valentine update, enemy Moby Dick has joined the fun!
His left eye is blind and his head is full of scars, probably from wrecking ships!
Here is a link to the video: https://youtu.be/fBisVS7MKIY
Here are some photos of enemy Moby Dick.
Known spawn places are: the area above the Giant enemy Crab cave, the sea above the Kempy Cave, and the area beside the Noth Pole portal.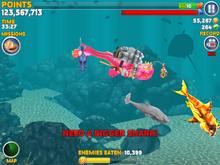 Sometimes the enemy Moby Dick could be small, but it also can be huge! With Big Daddy or Alan, Destroyer of Worlds, it's easier to find enemy Moby Dick in those areas. When eating the Enemy Moby Dick, no matter under gold rush or not, the visual effect is a lot different from eating other enemy sharks. The enemy Moby Dick appears to be shredded to thousands of tiny pieces then disappear in the water. The enemy Moby Dick does not attack you; even if it bites you, your health won't drop.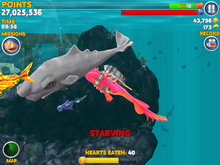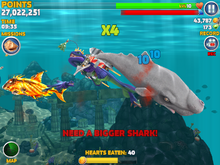 Ad blocker interference detected!
Wikia is a free-to-use site that makes money from advertising. We have a modified experience for viewers using ad blockers

Wikia is not accessible if you've made further modifications. Remove the custom ad blocker rule(s) and the page will load as expected.