Great White Attack is a mission of the Great White Shark in Hungry Shark Evolution. This mission is one of eight standard missions of the Great White Shark, and one of nine missions in total of the Great White Shark.
How to Complete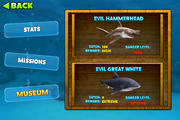 To complete Great White Attack, you must eat an Evil Great White Shark using the Great White Shark in a single gameplay session. The reward for completing this mission is 800 coins.The Evil Great White Shark can be found at the far-bottom-left of the Hammerhead Shark's spawn point. There is a strange happening in the game, for some reason when you eat a Enemy Ice Shark , it completes the mission. This is probably because the Ice Shark was modelled after the Great White.
Ad blocker interference detected!
Wikia is a free-to-use site that makes money from advertising. We have a modified experience for viewers using ad blockers

Wikia is not accessible if you've made further modifications. Remove the custom ad blocker rule(s) and the page will load as expected.