Pulls Gold edibles and HUNGRY letters towards you!
~ Ingame Description
Description
The Gold Magnet is a power-up in Hungry Shark World that pulls gold objects and hungry letters towards the shark. This could make gold farming and mission completing easier. Despite this ability, certain enemies cannot be pulled into the gold magnet due to their size.
Cost
The gold magnet costs 20 gems.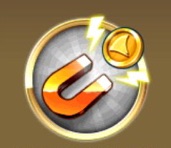 Ad blocker interference detected!
Wikia is a free-to-use site that makes money from advertising. We have a modified experience for viewers using ad blockers

Wikia is not accessible if you've made further modifications. Remove the custom ad blocker rule(s) and the page will load as expected.