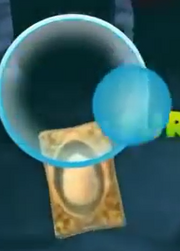 Framed Picture of an Egg
is one of the 15
sunken treasures
. It is a picture of an egg in a golden frame.
Location
It is located inside the odd-looking Kempy Cave and is guarded by the vulnerable Kempy Bass, so it is easy to get if you're already inside the lair, but outside it is guarded by many angler fish, pink jellyfish, mini subs, evil great whites, enemy Megalodons, Enemy Mr. Snappy, Enemy Alan, Destroyer of Worlds and sometimes an enemy Big Daddies, so it is very dangerous to reach.
Trivia
This is one of two sunken objects whose names are read out when found. The other is Wakaba .
The name is one if not the only of the only self-explanatory item that briefly explains it.
Ad blocker interference detected!
Wikia is a free-to-use site that makes money from advertising. We have a modified experience for viewers using ad blockers

Wikia is not accessible if you've made further modifications. Remove the custom ad blocker rule(s) and the page will load as expected.