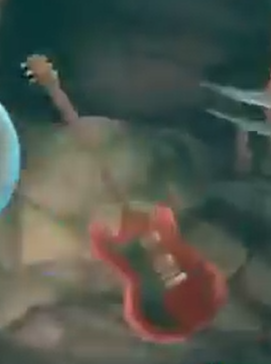 The
Electric Guitar
is a
sunken treasure
. It is a red electric guitar.
Location
It's found in the left end of the basic map above the Giant Crab's lair and below Skull Island . It's guarded by three to six Mega Mines and found with Blob Fish like many other Sunken Treasures. Small sharks can easily die there, because of the dangerous prey that often spawn.
Trivia
The Electric Guitar is the westernmost item in the game
The Electric Guitar has a chance, like all the other treasures, of yielding a gem 
Ad blocker interference detected!
Wikia is a free-to-use site that makes money from advertising. We have a modified experience for viewers using ad blockers

Wikia is not accessible if you've made further modifications. Remove the custom ad blocker rule(s) and the page will load as expected.